AYURVEDIC ANTIPYRETIC AND ANTITOXIC REMEDY
Mahasudarshan Capsules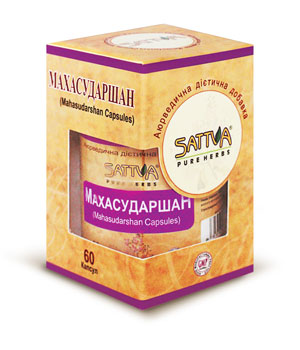 60 Vegetarian Capsules
Ancient texts of Ayurveda contain "a wonderful recipe for a good sight" known as Mahasudarshan. This classic formula composed by herbs that provide a bitter taste and have "cooling" effect. It has sight relieving properties.

Mahasudarshan helps removing toxins from tissues and detoxifies the blood. It is a good remedy to treat inflammation accompanied by raised body temperature and fever.

Mahasudarshan is highly effective for treatment of gastric and duodenal ulcers accompanied by hyperacidity. Its usage is recommended in case of consumption of excessively fat or sugary food. It improves the digestion and promotes weight loss, when taken after meal.

The herbal ingredients of Mahasudarshan regulate the functioning of pancreas, therefore it is recommended as complementary treatment of diabetes. Mahasudarshan is effective to treat chronic and acute cholecystitis and pancreatitis, as well as gallstones and fatty liver disease.

It is one of the best Ayurvedic remedies, to quickly remove the negative effects of food and alcohol intoxication.

Sattva Mahasudarshan is recommended for treatment of acute respiratory diseases accompanied by fever. It helps to remove toxins from the body.

Sattva Mahasudarshan is natural helminthicide. It contributes to removal of certain types of worms and prevents the development of further worm invasions.

Sattva Mahasudarshan is recommended to use as a therapeutic and prophylactic remedy in the period from early spring to late autumn.
Benefits
Improves sight due to its eye cleansing effect.
Eliminates toxins from body tissues.
Purifies the blood and has antipyretic effect.
Promotes the correct functioning of pancreas.
Recommended as pancreatitis, cholecystitis, and cholelithiasis treatment.
Reduces the negative effects of food and alcohol intoxication.
Improves the digestion and promotes weight loss
Main ingredients of Sattva Mahasudarshan capsules:
Chiretta - Swertia chiratata (Swertia chiratata) – helps to normalize the blood sugar, has antimalarial and hepatoprotective properties. Chiretta is effective as treatment for asthma, cough, gastritis, gastric ulcer, hepatitis, and skin diseases.

Guduchi - Amrit (Tinospora cordifolia) – purifies the blood removing "ama" (products of incomplete metabolism), toxins, produced by pathogenic microorganisms; has diuretic and diaphoretic effects; it is immunnoregulator and hepatoprotector.

Daru-haridra – Indian Berberry (Berberis aristata) – belongs to a "golden list" of ayurvedic herbs. Contains large amount of yellow alkaloid berberine, providing a bitter taste, as well as karachine and taxalamine alkaloids. The bark has anti-inflammatory, wound healing, antioxidant, tonic, and laxative properties. It is used as antioxidant and helps to restore lost energy. Excellent treatment for skin diseases, and abscesses. It may help to stop itching. It is effective blood purifier, as well as helps to treat urolithiasis, gastric and duodenal ulcers, nausea and vomiting. Strengthens heart muscle, reduces blood pressure and improves blood circulation. It is recommended as treatment for rheumatism, arthritis, fever, colds, flu, hepatitis, chronic cholecystitis, and liver disorders.

Trikatu – Blend of three spicy tastes - Black pepper (Piper nigrum), Pippala (Piper longum) and Ginger (Zingiber officinale). All together this spices help to remove toxins, improve the appetite, and enhance the digestion. This blend has carminative and expectorant effects. Black pepper reduces cholesterol and increases metabolism. Long pepper has a strong antiseptic effect. Stimulates the functioning of gastrointestinal tract, increases the appetite, as well as gastric and pancreatic secretions. Eliminates bile stasis and relieves nausea. Ginger stimulates digestion by helping the body to remove toxins from the intestines and split the fats.

Triphala - Three fruits - Amla (Emblica officinalis) or Indian gooseberry, Haritaki (Terminalia chebula) - fruit of Chebulic myrobalan tree, and Bibhitaki (Terminalia belerica) - Indian almonds - usually used in equal proportions and produce purifying and rejuvenating effect.
Ingredients
Emblica officinalis, Terminalia chebula, Terminalia belerica, Curcuma longa, Berberis asistata, Solanum xanthocarpum, Solanum indicum, Hedeychium, Zingiber officinale, Piper nigrum, Piper longum, Piper longum root, Sansevieria roxburghiana, Fagonia Arabica, Picrorrhiza kurroa, Fumaria offcinalis, Cyperus rotundus, Gentiana kurroo, Valeriana officinalis, Melia azadirachta, Inula racemosa, Holarrhena antidysenterica, Glycyrrhiza glabra, Ptychotis ajowan, Holarrhena Antidysenterica, Clerodendrum serratum, Moringa oliefera, Acorus calamus, Cinnamomum zeylanicum, Prunus pudum, Andropogon muricatus, Santalum album, Aconitum heterophyllum, Sida cordifolia, Desmodium gangeticum, Uraria picta, Embelia ribes, Plumbago zeylanica, Cedrus deodara, Piper chaba, Valeriana wallichii, Trichosanthes dioica, Microstylis muscifera, Microstylis wallichii, Syzygium aromaticum, Bambusa arundinacea, Nelumbium nuciferum, Lilium polyphyllum, Cinnamomum tamala, Myristica fragrans, Tinospora cordifolia, Taxus baccata, Swertia chirata.
Dosage
Take 1 capsule 2 times per day, preferably with a glass of warm water.
Indications
fever, intermittent fever, loss of strength after fever, nausea, enlarged liver and spleen, food and alcohol intoxication, cholecystitis, hepatitis, disturbance of vision, conjunctivitis.
Contradiction
individual intolerance to one or more ingredients of the formula.
Packing
60 vegetarian capsules weighing 600 mg ± 10% each in food grade plastic bottle.
Storage
Store in cool dry place, protected from moisture and light. Store at 15-30° C.