THE TONIC FOR WOMEN'S REPRODUCTIVE SYSTEM
Shatavari Capsules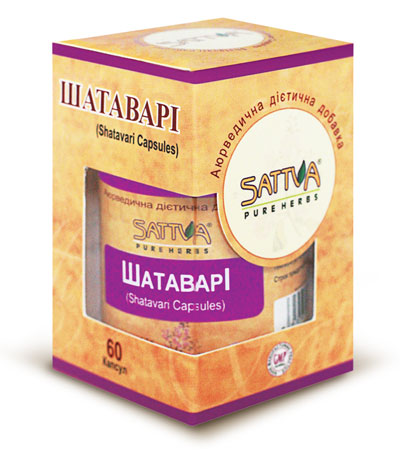 60 Vegetarian Capsules
Sexual dysfunction is a serious problem for many women. However, women who suffer from low libido frequently do not want to admit their problem.
Ayurveda recommends taking Shatavari to help normalize sexual activity, as well as to regulate menstruation periods and prevent infertility. Thanks to the content of herbal extract of Asparagus racemosus, Shatavari is considered the main women's rejuvenating elixir.
This plant grows in the jungles throughout India, especially in the northern regions. It requires dry soil and plenty of sun, sometimes reaches 7 meters tall. Young sprouts (up to 23 cm height) are harvested for medical use.
Shatavari is considered to have beneficial effects to the organs of reproductive system. It normalizes functioning of hormonal and immune systems preventing the infertility. Shatavari helps to regulate menstrual cycles. Has nourishing, diuretic, rejuvenating, tonic, antispasmodic, anti-bacterial action. Increases sexual energy and prevents the growth of tumors.
Shatavari balances the women's hormonal system, accelerating the transition of estradiol into sterol, which happens in liver and stimulates the synthesis of progesterone. Thus prevents the development of estrogen related diseases such as fibroids, mastopathy, endometriosis, and cervical erosion.
Shatavari acts over the production of the egg cells, increasing its ability to be inseminated. Scientific studies have shown a growth of the mammary glands and increment of milk secretion in women regularly taking this supplement. Foresaid is associated with increased synthesis of prolactin and growth hormone (somatotropin).
Shatavari is widely used in India to increase lactation in nursing mothers. This plant has rich content of the bioflavonoids and natural antibiotics, which help to purify the blood and mucous membranes of women's genital tract. It has soothing effect and is used to treat many inflammatory diseases, as well as irritation of mucous membrane of the stomach and ovaries.
Shatavari regulates menstrual cycles, relieves ovary inflammation, and prevents the formation of fibroids. Due to the high content of herbal analogues of female sex hormones this supplement is useful to relieve symptoms caused by menopause and removal of the uterus surgery.
Has a mild astringent action to the digestive system. It is used to treat general weakness, irritable colon and stomach lining. Ideally suppresses gastric and duodenal ulcers, heartburn due to hyperacidity.
Benefits
Has an antioxidant effect.
Helps to reduce stress.
Helpful to restore for women's sexual health.
Useful treatment for menopause.
Increases sexual desire.
Stimulates lactation in nursing mothers.

Translating from Sanskrit Shatavari means "having a hundred men". The name itself praises aphrodisiac properties of the plant specifically related to women's sexual desire. Shatavari is considered as a remedy to treat sexual problems and problems associated with inflamed mucous membrane of the stomach and duodenum.

Sattva Shatavari Capsules increases estrogen levels.
Reduced estrogen levels may cause vaginal dryness. It produces pain, irritation and burning sensation to a woman during the intercourse, and as a result reduces libido. The estrogen contained in Shatavari helps to reduce vaginal discomfort.

Sattva Shatavari Capsules increases the secretion of testosterone.
High testosterone level is necessary to maintain sex drive in men and also to help women to restore sexual desire. Shatavari normalizes the testosterone level, improving overall sexual condition and enhancing the immune system.

Sattva Shatavari Capsules mitigates the depression.
Women with depressive disorders frequently tend to lose interest in sex. In this case depression should be treated by increasing sexual desire and immunity of the body. Shatavari is a natural antidepressant that enhances libido and improves mood.

Sattva Shatavari Capsules promotes lactation.
Shatavari helps to enhance lactation in nursing mothers.

Shatavari is one of the most useful supplements for women. It is mostly known as rejuvenating women's tonic. Shatavari is a source of herbal estrogens. It helps to balance the female hormonal system as well as to purify and nourish the blood. Reduces the inflammation of female genitals. Shatavari is beneficial for infertility treatment; helps to treat low sexual desire, menopause prevents miscarriage and vaginal thrush.

Shatavari restores Ojas (Vital Energy). Helps to remove excessive fluid from the body. It's a perfect remedy for the treatment of gastric and duodenal ulcers. Increases hemoglobin level and normalizes blood pressure. It is used as additional remedy to treat fever, diarrhea and bronchitis.

Shatavari influences positively on the men's sexual health as well. May be used for the treatment of impotence, and spermatorrhea, helps to relieve inflammation of the prostate and prevents the development of prostatitis.
Ingredients
Shatavari root extract - Asparagus racemosus.
Dosage
Take 1-2 capsules 2 times per day after meal, preferably with a glass of warm water.
Indications
The weakened women's reproductive system, menopause, menstrual disorders, fibroids, mastopathy, endometriosis, cervical erosion, the postpartum period, hyperacidity, diarrhea, dehydration, gastric and duodenal ulcers, prostatitis.
Contradiction
Individual intolerance to one or more ingredients of the formula.
Packing
60 vegetarian capsules weighing 600 mg ± 10% each in food grade plastic bottle.
Storage
Store in cool dry place, protected from moisture and light. Store at 15-30° C.