AYURVEDIC REMEDY TO ELIMINATE TOXINS FROM THE BODY
Triphala Guggul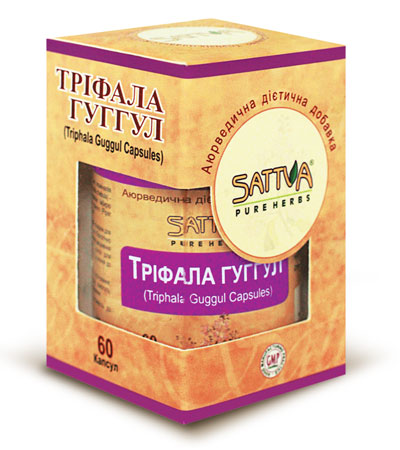 60 Vegetarian Capsules
Triphala Guggul is classical ayurvedic supplement for deep cleansing the body from the toxins. The famous combination of three myrobalan fruits, known as Triphala, has been used for more than five thousand years to restore and normalize the gastrointestinal tract.
Triphala Guggul contains two more components which make it unique. Guggul and Trikatu (mix of Black pepper, Pippali and Ginger) are added to increase the medicinal effect on the lymphatic and musculoskeletal systems.

Triphala Guggul has been used for centuries as a remedy to improve digestion by increasing the amount of hydrochloric acid and other enzymes responsible for breaking down the food in the stomach. It is considered one of the best Ayurvedic remedies for normalizing blood cholesterol and aiding a weight loss.

Sattva Triphala Guggul effectively normalizes metabolic processes in the body, reduces inflammation in the joints, restores the functioning of gastrointestinal tract, as well as promotes weight loss. It cleanses small and large intestine, liver, lymph, blood, and nervous system cells. Used in a complex treatment for atherosclerosis, obesity, diabetes mellitus, gout, kidney stones and gallstones, arthritis, osteoarthritis, degenerative disc disease, intestinal and genital candidiasis, and bronchopulmonary diseases.
Benefits
Maintains healthy digestion.
Normalizes the blood cholesterol.
Helps to detoxify the soft tissue and joint surrounding area.
Aids in boils treatment.
Normalizes the body weight.

Main ingredients of Sattva Triphala Guggul Capsules:

Triphala - Three fruits: Amla (Emblica officinalis), Haritaki (Terminalia chebula) and Bibhitaki (Terminalia belerica). Triphala is purifying and rejuvenating ayurvedic supplement.

Amla fruits are the richest natural source of vitamin C. It contains glycosides, saponins, natural antiseptics, different forms of ascorbic acid, bioflavonoids and carotenoids with antioxidant properties. Fruits of Amla help to prevent the development of atherosclerosis, as well as other disorders of the immune system.

Haritaki possesses adaptogenic, sedative and neuroprotective effects. Haritaki fruit contains powerful antioxidants that may prevent damage to the artery endothelium, development of collagen protein crosslinking, inhibition of cellular immunity, including antitumor, colloidal equilibrium disorders of bile and urine.

Bibhitaki fruits have rich content of gallotannins, saponins and phytosterols. Bibhitaki regulates insulin and estrogen levels. Removes excessive mucus in the bronchial tubes and relieves the cough, helps to eliminate stagnation in the biliary system and pelvic organs.

Guggul - Mukul Myrrh Tree (Commiphora mukul) – the milky juice of its fruit is known as Guggul resin. Guggul is one of the most widely used ingredients in Ayurveda. Has strong cleansing and antioxidant effect. Reduces the cholesterol and prevents its accumulation in the body. Stimulates the digestive fire, increases thyroid function, normalizes lipid metabolism, and helps to eliminate toxins from the body.

Prevents the degeneration of cartilage by inhibiting hyaluronidase and collagenase, prevents further development of arthritis, joint pain, hemorrhoids, fistulas and various disorders of the gastrointestinal tract. Especially effective in complex treatment of obesity. Slows down the progression of atherosclerosis and strengthens the heart.

Trikatu - contains equal proportions of three spices with pungent taste – Black pepper (Piper nigrum), Pippali (Piper longum) and Ginger (Zingiber officinale) – Eliminates toxins, increases the appetite, and improves the digestion. Has carminative and expectorant effect.
Black pepper reduces cholesterol and increases the metabolism.

Pippali has strong antiseptic effect. Stimulates the functioning of gastrointestinal tract, increases the appetite, as well as gastric and pancreatic secretions. Thanks to such alkaloids as silvatine, sitosterols and methyl piperine it may help to eliminate bile stasis and relieve nausea.

Ginger stimulates digestion by helping the body to remove toxins from the intestine and split the fats.
Ingredients
Amla (Emblica officinalis), Haritaki (Terminalia chebula), Bibhitaki (Terminalia belerica), Guggul (Commiphora mukul), Black pepper (Piper nigrum), Pippali (Piper longum), Ginger (Zingiber officinale).
Dosage
Take 1-2 capsules 2 times per day after meal, preferably with a glass of warm water.
Indications
Arthritis, chronic diarrhea, constipation, bloating, dysbacteriosis, obesity, boils, carbuncles, abscesses, ulcers, hemorrhoids, edema.
Contradiction
Individual intolerance to one or more ingredients of the formula, pregnancy or breastfeeding, acute pyelonephritis, gastritis, stomach and duodenal ulcer.
Packing
60 vegetarian capsules weighing 600 mg ± 10% each in food grade plastic bottle.
Storage
Store in cool dry place, protected from moisture and light. Store at 15-30° C.