AYURVEDIC OIL FOR NASYA
6 KAPEL OIL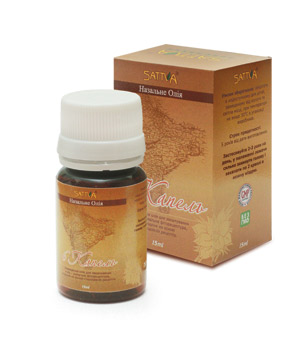 15 Ml
Since long time in Ayurvedic medicine there is method of using oils through the nose - Nasya or Shirovirechana. "Shire" - in Sanskrit means "head", "Virechana" - "purification." The excess mucus that accumulates in the throat, nose, nasal and frontal sinuses is removed through the nose by means of such a procedure.

Ayurvedic oil for nose Sattva "6 drops" - a unique herbal formulation, compiled on the basis of ancient recipes. In Ayurveda great importance is given to free nasal breathing because because while breathing through the nose Prana 'TheVital energy' enters the body. Prana supports the sensory and motor functions in the body. Nasal medication helps to correct disorders of movement of Prana. It helps eliminate the common cold, sinusitis, sinusitis, rhinitis, headache. It is the prevention of ENT diseases. It increases the efficiency of the brain, sensory and motor functions of the body.

Sattva "6 drops" nasal oil, as the nose is the closest access point to the organs of the head. Removes Ama (toxic mucus) from the nose, sinuses, throat, eyes and ears.
Benefits
Eliminates rhinitis (colds and allergic).
Removes mucus from the nose and throat.
Effective in sinusitis (acting without punctures).
Helps cleanse the nasal and frontal sinuses.
Eliminates the headache.
Relieves stress.
Improves the emotional state of the memory.

In Ayurveda nasal therapy is a daily mandatory procedure for children and adults. In morning or evening nasal lavage should drip into the nose of 3-6 drops of nasal oil. Such a procedure, in first place is recommended for acute and chronic diseases of ENT organs, rhinitis of various origins (viral, bacterial, allergic), with frequent headaches, impaired memory and concentration.

Nasal therapy improves the activity of the senses, improves nasal breathing and consequently increased flow of energy into the body.

In addition, regular use of Sattva "6 drops" oil eliminates dark circles and puffiness under the eyes.

In autumn and winter oil it is an effective natural preventive measure against influenza, acute respiratory infections and frequent colds.

The main ingredients Sattva "6 drops":
Gotu Kola (Centela asiatica) – immune-modulator, contains vitamins A, B, E and K. It improves cerebral blood circulation and enriches the brain of oxygen, calms the central nervous system, relieves headaches, enhances physical and mental activity.

Vacha (Acorus calamus) - contains essential oil, tannins, resins, ascorbic acid, glycoside akorin, alkaloid calamine, choline, iodine and starch. Has anti-inflammatory, antiseptic, antimicrobial, expectorant, analgesic and sedative effect.

Erand (Ricinus commucis) - records on the use of castor oil plant for medicinal purposes is found in ancient Sanskrit sources. The largest area of ​​growth castor concentrated in India, which annually produces up to 40 thousand Tons of castor oil. It belongs to the group of non-drying oils. It contains alkaloids and protein compounds ricinine ricin. It has antibacterial properties that determines its use in medicine.

Eucalyptus oil (Oleum eucalypti) - is used as an antiseptic and anti-inflammatory agent in infectious diseases of the pharynx and upper respiratory tract (pharyngitis, laryngitis, tracheitis). It has a mild sedative effect.
Ingredients
Gotu Kola (Centella asiatica), Vacha (Acorus calamus), Skullcap Eastern (Scuttelaria orientalis), Castor (Ricinus commucis), Camphor (Camphora officinarus), Shatavari (Asparagus racemosus), (Embelia ribes), Ginger (Zingiber officinale), Murathi (Glucurrhiza glabra), Eucalyptus oil, sesame oil, olive oil, butter Limonnoe.
Dosage
5-10 minutes to warm up the nose of hot salt through several layers of fabric. In the supine position much throw back his head and drip 2 drops in each nostril. After 5 minutes, warm salt drip 4 drops. After another 5 minutes of warm salt drip 6 drops in each nostril.
Indications
Rhinitis, sinusitis, rhinitis, sinusitis, headaches.
Contradiction
Individual intolerance, pregnancy.
Packing
Oil 15 ml in food grade PET bottle.
Storage
Store in cool dry place, protected from moisture and light.