AYURVEDIC COSMETIC OIL
Olyana Rose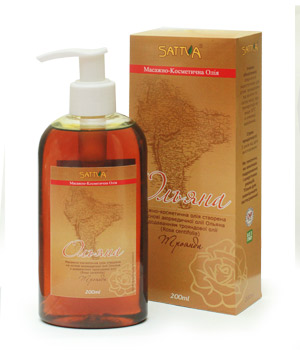 200 Ml
Massage and cosmetic oils, created according to ancient recipes based on high-quality sesame oil with the addition of 18 herbal plants to enhance health effect.

Sattva Olyana - indispensable oil for massage. Through deep permeation reduces inflammation and pain in muscles and joints.

Sattva Olyana - the perfect cosmetic skin care.

Sattva Olyana has effective nourishing, soothing and moisturizing effect. Natural unique medicinal plants deeply nourishes the skin, maintains its optimal moisture balance, retains the soft, smooth and healthy skin.

External application of massage and cosmetic oil Sattva Olyana contributes not only to the beauty of the skin, and improve overall health.

Brand Sattva offers you 3 types of massage and cosmetic oil Sattva Olyana body oil with the addition of essential oils: Rose, Sandalwood and Ylang-Ylang.

Sattva Olyana Rose

This Massage and cosmetic oil is created on the basis of Ayurvedic oil Sattva Olyana with the addition of rose oil (Rosa centifolia). The healing properties of roses have been known since ancient times. In the East, the rose is used in the treatment of many diseases. Oil massage with Sattva Olyana Rose has the following effects: antidepressant, antispasmodic, antiseptic, sedative, tonic, deodorant.

It also helps in tachycardia, asthma, insomnia.

Massage and cosmetic oil Sattva Olyana Rose is an excellent tool for skin care: fragile capillaries, dry skin, cold sores, wrinkles. It tones the skin and tissue.

Sattva Olyana Rose is Non-toxic & does not cause irritation and allergic reactions.

How to use: Using Sattva Olyana Rose is a very simple process. To begin with, wash your hands and clean and dry the affected area. Now, take a small amount of the herbal oil onto the fingertips and apply it on the pain affected area. Massage by working in a circular motion till the oil is absorbed completely.

Warnings: Sattva Olyana Rose is for external use only!
Dosage
Apply to the affected area a small amount of oil and massage gently 2-3 times a day or as directed by the physician.
Indications
Used as a massage oil when the general weakness of the body, pain syndromes, in violation of psychological and emotional state of sleeplessness, with dry skin, massage for children from 6 months.
Contradiction
None
Packing
Oil 200 ml + 2% in food grade PET bottle.
Storage
Store in cool dry place, protected from moisture and light.