AYURVEDIC TONIC FOR MEN
Vigar Gold Capsules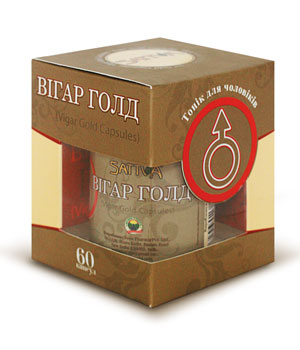 60 Vegetarian Capsules
Sex is an integral and important part of our lives. It is as much necessary as food. It includes both the physical state of body and psychological state of and mind. Low libido, premature ejaculation, lack of erection and pleasure those are the usual symptoms of premature sexual weakness, or the impotence.

What is impotence? It is a disorder of male sexual function, when the sexual act cannot be performed partially or totally. Impotence has always been a punishment for men. The evidence of this is the facts that since the ancient time there has existed a significant amount of medicines in order to increase male sexual strength. And now it is clear that many remedies prescribed by a physician of antiquity have been effective.

In the dictionaries the word "potency" is given a completely unambiguous definition: strength, power, ability to act, without slightest erotic meaning. However, for some inexplicable rules the term "impotence" defines male sexual weakness.

Doctors define usually two different forms of male sexual weakness. First one is weak erection of the penis and second one is premature ejaculation. They may occur together or separately.

Testosterone is the hormone responsible for sexual potency. Studies have shown that it is much safer to help the body to produce its own testosterone using non-hormonal remedies, instead of direct intake of synthetic testosterone

In this case, the use of Ayurvedic herbal supplement Sattva Vigar Gold capsules may be very effective. Its natural ingredients enhance testosterone production. The mechanism of action of this supplement is centralized. The ingredients of Sattva Vigar Gold capsules stimulate the hypothalamus and pituitary gland to increases the production of luteinizing hormone, which commands to the testicles to produce testosterone.

Sattva Vigar Gold Capsules is Ayurvedic supplement which helps to restore male strength.

Sattva Vigar Gold capsules helps to increase sexual power by increasing the production of healthy sperm. It also improves physical and mental health of men.

Sattva Vigar Gold capsules is effective treatment for various types of impotence. It increases libido and orgasmic sensations.

Sattva Vigar Gold capsules is a unique tonic, which contains plants from the Himalayan region. It is a natural herbal source of elements providing strength, power and vigor to the body.
Benefits
Helps to improve the energy required for pleasure during normal sexual intercourse.
Increases libido.
Helps to restore potency.
Restores normal erection.
Increases the number of healthy spermatozoids and quality of sperm.
Helps to increase the overall energy, stamina and self-confidence.

Main ingredients of Sattva Vigar Gold Capsules:

Ashwagandha (Witania somnifera) – activates anabolic processes, promotes tissue regeneration, used to treat general body weakness produced by long-term chronic diseases, fatigue, insomnia, nervous exhaustion.

Shilajit - Mumijo (Asphaltum) – mineral origin purified exudate. Shilajit has balanced content of mineral and organic constituents. It is often used in combination with other medicinal plants in order to maintain the various functions of the organism. Traditionally used in treatment of urinary infections, enlarged prostate, diabetes, asthma, stomach problems, to relieve anxiety and stress effects. Promotes faster recovery from diseases.
One of the best properties of Shilajit is to increase sexual energy. Used as tonic.

Jaiphal - Nutmeg (Myristica fragrans) - contains calcium, magnesium, iron, proteins, resins, sugars, and essential oils.
Has an effect over plasma, bone marrow, nervous system and reproductive tissues. It is aphrodisiac. Increases sexual desire. It is recommended to treat premature ejaculation.

Gokshura - Tribulus Terrestris (Tribulus terrestris) - used to treat kidney diseases and urinary tract infections, as well as the impotence and infertility. The plant contains steroidal saponins, flavonoids, alkaloids, vitamin C, tannins, macro- and micronutrients. The extract of the plant is considered the most powerful and effective non-hormonal remedy to enhance the potency and sexual desire. It is used to treat infertility in men. Stimulates the function of gonads, normalizes hormones, stimulates spermatogenesis and increases the potency.

Sufed Musli - Asparagus (Asparagus adscendens) – due to the high content of glycosides it is used to prevent and resolve problems with erection. Safed Mush is a great sexual stimulant and tonic. Used to treat sexual weakness and to increase overall vitality

Vidari - Pueraria (Pueraria tuberosa) – is a climbing vine, similar to ivy with extensive upper branches. It has an ability to entwine any object within a radius of 100 m. Rhizome contains sitosterol, sucrose, glucose, fructose, proteins. It improves the health in general and has tonic properties. It is considered to have an aphrodisiac effect. It is used in treatment of spermatorrhea, seminal stones and prostatitis.
It increases the sperm count and quality, as well as sperm motility. Promotes strong erection and rejuvenates male reproductive system.

Akarkara - Pyrethrum (Anacyclus pyrethrum) – is also known as Spanish Chamomile. It has analgesic and antiseptic action. The root of the plant is strong aphrodisiac. Effectively used in treatment of premature ejaculation. Regulates the metabolism and strengthens the immune system.

Rajat Basma - Silver oxide (Ash of Silver) – is the perfect anti-inflammatory agent, which has antibacterial properties by inhibiting pathogens.

Suvarna Basma – Gold oxide (Ash of Gold) – one of the main components of the supplement. Ancient Ayurvedic texts contain description of the therapeutic use of gold.

Gold, which becomes red as the rising sun when heated and turns light saffron when grinded in a stone mortar, is considered useful for medicinal purposes in Ayurveda.

All supplements containing gold, one way or another have properties of Suvarna Basma. However, other components of the composition define its specific action.

Suvarna Basma is one of the best known rejuvenating tonics (Rasayana). It slows down the aging process, improves intelligence and memory. It provides rejuvenating effect to whole body and prolongs life. Is has excellent antioxidant properties. It is a great aphrodisiac that also improves spermatogenesis.

Diet and lifestyle:

Avoid salty, sour, fried and fat junk food, late night dinners, alcohol and smoking. Beneficial roducts: rice with milk, soups, chicken, eggs, black lentils, fresh vegetables and fruits.

Avoid excessive physical effort and psycho-emotional stress.
Ingredients
Ashwagandha (Withania somnifera), Shatavari (Asparagus racemosus), Tribulus terrestris (Tribulus terrestris), Asparagus (Asparagus adscendens), Nutmeg (Muristica fragrans), Pueraria (Pueraria tuberosa), Pyrethrum (Anacyclus pyrethrum), Mucuna (Mucuna pruriens), Clove (Syzygium aromaticum), Shilajit (Asphaltum), Silver oxide (Ash of Silver), Gold oxide (Ash of Gold).
Dosage
Take 1-2 capsules 2 times per day after meal, preferably with a glass of warm water or milk.
Indications
Weakness, premature ejaculation, erectile dysfunction, decreased sexual vigor and vitality.
Contradiction
Individual intolerance to one or more ingredients of the formula.
Packing
60 vegetarian capsules weighing 600 mg ± 10% each in food grade plastic bottle.
Storage
Store in cool dry place, protected from moisture and light. Store at 15-30° C.