NATURAL MUSCLE RELAXING MASSAGE OIL
ARTRODIN OIL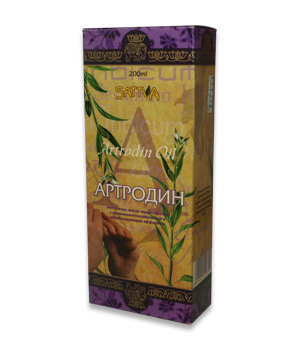 200 Ml
If you are suffering from joint pain, rheumatoid arthritis, ankylosing spondylitis, cervical spondylosis, osteoarthritis, chronic inflammatory processes in joints, sciatica, sports injuries etc. Artrodin Oil is the best natural solution to your problem.

Artrodin Oil is quite beneficial in treating chronic-inflammatory joint disorders like spondylitis, gouty arthritis, osteoarthritis and rheumatoid arthritis. This massage oil is an excellent anti-inflammatory muscle-relaxant.

Artrodin Oil not only, provides relief for arthritis, but also strengthens the neuromuscular and skeletal systems, bone tissues and give an easy functioning of joints and muscles. This oil has strong antioxidant and energizing properties.

Arthritic pain occurs as a result of various factors, such as joint, tendons or ligaments inflammation, muscle sprain or fatigue. Pain is usually accompanied by such symptoms as joint swelling, acute inflammation (heat, redness of the affected area) and increase of joint damage.
Benefits
A potent antioxidant that increases energy levels and blood circulation.
Instantaneous relief from joint pain, muscle strain and body aches.
Herbal oil with anti-inflammatory property that permeates through the skin surface and gives immediate soothing effect on nerves and muscles.
Has a healing effect on skeletal disorders.
Gives respite from ankylosing and cervical spondylosis.
Effective in treating rheumatoid and osteoarthritis.
Beneficial in sciatica disorders.
It purges stiffness and enhances mobility of limbs.

Every little action that is performed is supported by your bones and joints. But, the joints may get damaged due to ageing or other minor reasons, and cause a great pain. It may always start as a mild pain and it will increase day after day, if left untreated. So, it is extremely important to identify the reason for joint pain and treat it at the right time.

How to use: Using Artrodin Oil is a very simple process. To begin with, wash your hands and clean and dry the affected area. Now, take a small amount of the herbal oil onto the fingertips and apply it on the pain affected area. Massage by working in a circular motion till the oil is absorbed completely. This procedure is to be repeated 2-3 times a day for best results.

Warnings: Sattva Artrodin Oil is for external use only!
Dosage
Apply to the affected area a small amount of oil and massage gently 2-3 times a day or as directed by the physician.
Indications
Backache, Joint Pain in Shoulders, Elbows, Wrists, Hips, Knees and Ankles, Muscular Pain, Rheumatoid Arthritis, Osteoarthritis, Spondylosis, Fibromyalgia & Sports Injuries etc.
Contradiction
Do not use on damaged skin such as cuts, wounds and burns.
Packing
Oil 200 ml + 2% in food grade PET bottle.
Storage
Store in cool dry place, protected from moisture and light.