AYURVEDIC FORMULA FOR PROSTATE HEALTH
Prostadin Capsules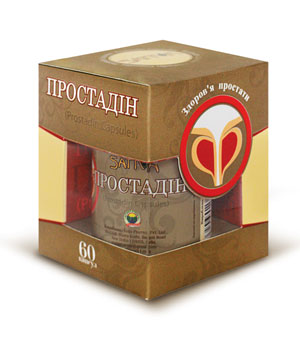 60 Vegetarian Capsules
The prostate is a part of the male reproductive system. Interestingly, it is called iron, but in fact, consists of 70% iron and 30% fibro-muscular tissue. The size and shape of a walnut located directly under the bladder and surrounds the urethra - a tube which descends into the bladder. Prostate secrete a substance that lubricates the urethra, protects and nourishes sperm.

Prostate disorders
In the prostate gland may occur three types of disorders: inflammation or infection (prostatitis), benign prostatic hyperplasia and cancer.
Prostatitis is a clinical term used to describe a wide range of disorders, ranging from bacterial infections to chronic pain syndromes.

There are many classifications of prostatitis, but none of them is fully comprehensive. In short, there are two main streams of prostatitis: chronic and acute.

Chronic prostatitis is the most common form of prostatitis. It can occur in men of any age, since adolescence. Symptoms may disappear and then suddenly return.
In Acute prostatitis symptoms are more pronounced which characterized it from chronic prostatitis. Its treatment is carried out with the use of large doses of antibiotics. In some cases there is a need for surgery to remove the prostate ulcers.

Asymptomatic inflammatory prostatitis is often found when a doctor is looking for causes of infertility or the patient being tested for prostate cancer.

Benign prostatic hyperplasia is the second common problem that can occur in the prostate gland. With age, the prostate gland is slowly increased, whereby the pressure on the urethra can lead to problems with urination. Frequent urination, weak urine flow, interrupts in the stream of urine are all symptoms of an enlarged prostate. Benign prostatic hyperplasia can lead to weakness of the bladder, kidney infection, complete blockage of the urine flow, and renal insufficiency.

As the prostate gland tends to increase after reaching adulthood, benign prostatic hyperplasia is the most common problem for men older than 50 years.

Prostate cancer is one of the most common cancers in men. There are no early warning signs of prostate cancer. They appear after the cancer causes a significant increase in prostate cancer.

Common symptoms of prostate disorders:
Feeling of incomplete emptying of the bladder after urination completion.
Frequent urination (at intervals of less than 2 hours, and / or several times during the night).
Interrupt urination.
Difficulties in urinary retention.
Weak or limited urinary stream.
The un required tension to begin urination.
Burning during urination.
Pain in the lower back, in the area between the testicles and anus, in the lower abdomen or above the pubic area. The pain may be aggravated during defecation.
Reduced ability to implement and maintain an erection, weak ejaculation and dissatisfaction in sex.
Some pain during or after ejaculation.
Pain in the tip of the penis.
Fever and chills.
Loss of appetite.
Sattva Prostadin capsules is a combination of powerful rejuvenating ayurvedic plants that help to reduce the size of the prostate and inflammation of the urethra, reducing the body's production of damaging metabolites and enzymes.

Sattva Prostadin capsules helps to improve the flow of urine, sperm production and control of ejaculation. It is a safe and effective means of natural remedy without any side effects.

Sattva Prostadin capsules nourishes and stimulates the endocrine glands. It helps to normalize the size of the prostate gland and keeps it from rapid growth due to exposure of excess estrogen.

Sattva Prostadin capsules supports and balances the flow of urine, tones the smooth muscles of the urogenital system. Reduces inflammation of the urethra, and prostate.

Sattva Prostadin capsules helps in maintaining sexual and reproductive health, increases the vitality of the prostate gland at the cellular level. It is a rejuvenating tonic for prostate cancer.

Sattva Prostadin capsules is a proprietary Ayurvedic medicine that works directly for the male reproductive system and sexual organs and has a positive effect on hormone levels and prostate health.
Benefits
Reduces the size of the prostate.
Increases the flow of urine.
Reduces the frequency of urination.
Reduces nocturnal urination.
Stops incontinence.
Improves ejaculation.
Reduces pain and discomfort.

The main ingredients of Sattva Prostadin capsules:

Gokshura (Tribulus terrestris) - has a selective anti-inflammatory and bacteriostatically . It is diuretic, tonic, and antiseptic. It is a universal remedy for kidney, liver, heart and other organs disorders. Normalizes sperm production and its viscosity. Increases the potency in men. Prevents the development of chronic prostatitis and prostate adenoma.

Punarnava (Boerhavia diffusa) - is prescribed in the case of all urinary tract problems that arise due to diseases of the prostate.

Safed Musli (Asparagus adscendent) - due to high content of glycosides it is used to prevent and resolve problems with erection. Safed Musli is a great sexual stimulant and pathogen. It is used in sexual weakness and to increase the general vitality

Bhutala (Curculigo orchioides) - is used as a tonic. Reduces inflammation, improves blood circulation. Widely used in the treatment of erectile dysfunction, low libido and for increasing the number and motility. In Ayurvedic texts Bhutala is highly praised for its properties to improve the quality and quantity of sperm.

Karanz (Caesalpinia bonducella) - has a soothing and anti-inflammatory effect, which makes it particularly useful for solving problems related to prostate enlargement.

Chandan (Santalum album) - an evergreen tree of the family sandal with height of about 10 m. The most common parasitic on the roots of other plants: sugar cane, bamboo, palms and others. The roots of Sandalwood form suckers into the tissue of the roots of other plants and suck out these nutrients. Wood trunk yellow, fragrant, contains the nucleus 3-6% essential oil used in perfumery and medicine. Sandalwood cools and soothes the body and mind, affecting the digestive, respiratory and nervous systems. Sandalwood helps awakening of intelligence.

Application Chandan useful for enlarged prostate, anxiety, mental stress, headaches, negative, anger and aggression. Suitable for the treatment of cystitis and gonorrhea, urinary tract infections due to excessive alcohol consumption.

Shilajit (Asphaltum) - purified mineral exudate. Shilajit is a balanced mineral content of mineral and organic components. Is often used in combination with other plants to support various functions. Traditionally used for urinary infections, enlarged prostate, diabetes, asthma, stomach problems, with anxiety and stress for recovery.

It is best to use shilajit in systemic problems of the urinary tract and as well as a tonic.

Diet and lifestyle:

Take light diet: rice, green and black lentils, dairy products. Eat lots of fresh seasonal fruits and vegetables. For a healthy lifestyle alkaline foods can be useful.

Avoid alcohol and cold soft drinks, spicy and acidic foods, citrus fruits.
Ingredients
Gokshura (Tribulus terrestris), Punarnava (Boerhavia diffusa), Safed Musli (Asparagus adscendent), Bhutala (Curculigo orchioides), Varuna (Crataeva nurvala), Karanz (Caesalpinia bonducella), Sandalwood (Santalum album), Shilajit (Asphaltum), Swarna Bhasma(Ash of Gold).
Dosage
Take 1-2 capsules 2 times per day 15 -20 minutes after meal, preferably with a glass of water.
Indications
Enlargement of the prostate, the problems associated with various types of urinary tract infections, burning during urination, incontinence, bladder tumor.
Contradiction
Individual intolerance to one or more ingredients of the formula.
Packing
60 vegetarian capsules weighing 600 mg ± 10% each in food grade plastic bottle.
Storage
Store in cool dry place, protected from moisture and light. Store at 15-30° C.