AYURVEDIC TONIC, ANTIOXIDANT, IMMUNOMODULATOR
Amalaki Rasayana Capsules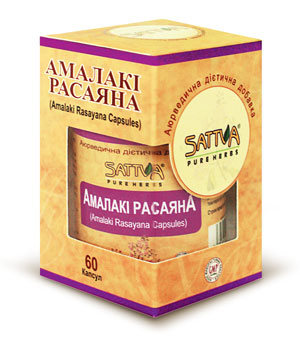 60 Vegetarian Capsules
Amalaki Rasayana is one of the most popular rejuvenating tonics in Ayurveda. It belongs to Rasayana group of ayurvedic remedies and also known as "Youth Elixir". In fact, Rasayana is the process, comprising all sorts of methods to help to maintain the body in an optimal health condition.

Sattva Amalaki Rasayana is quite strong tonic and may be used after excessive physical activity or as part of rehabilitation treatment after a serious illness.

To prepare Amalaki Rasayana there is a special processing technique (Bhavna) involving the seven stages process of Amla fruits bark powder with Amla fresh fruits juice (Emblica officinalis). Amla fruits are similar to large gooseberries, so it is also known as Indian gooseberry. It is the richest natural source of vitamin C and since it is present in a thermostatic form it doesn't get destroyed during the processing. 100g of amla pulp contains from 600 to 1800 mg vitamin C and 30 mg of vitamin B1.

Amla fruits prevent the development of atherosclerosis and various immune disorders, treats anemia. Amla restores and maintains new tissues, increases the number of red blood cells. It cleanses the mouth, strengthens the teeth, nourishes the bones, stops gum bleeding, reduces stomach and colon inflammation.

Sattva Amalaki Rasayana is used to treat premature aging, depressed immunity, frequent colds, and cough, disorders of the upper respiratory tract, as well as indigestion, gastric juice hyperacidity, and skin diseases.

Sattva Amalaki Rasayana improves the metabolism, has tonic, astringent, stomachic and febrifuge properties. It is used to treat gastric ulcers, duodenal ulcers and gastritis.

Sattva Amalaki Rasayana is used to rejuvenate the body; helps to achieve longevity and improve the memory.
Benefits
Powerful Antioxidant - protects the body from harmful effects produced by free radicals.
It has anti-inflammatory properties which help to treat colds and fever, as well as to reduce inflammation and pain in joints caused by arthritis.
Enhances the digestion, improves absorption and assimilation of nutrients, and improves the iron intake.
Improves the metabolism, promotes faster and easier weight loss.
Is ideal to reduce the gastric juice hyperacidity.
Supports correct liver functioning and helps to reduce the blood cholesterol.
Eliminates body toxins.
Heart tonic - nourishes the heart muscle, improves the blood, and supports the cardio-vascular system.
Nourishes the brain, supports the nervous system and mental functioning.
Nourishes the lungs, it is a perfect tonic to enhance and nourish the respiratory system.
Nourishes all body tissues. Increases the fertility and augments the possibility of conception. Strengthens the uterus and supports women's reproductive system health.
It is used to prevent and treat urinary system disorders.
Protects the skin form bacterial infections, moisturizes the skin and improves its color.
Helps to maintain eye health.
Prevents premature gray hair and hair loss.
Improves muscle tone - increases protein synthesis that promotes muscle mass growth.
Improves body resistance towards infections.
Powerful natural immunomodulator.
Prevents premature aging and provides energy to older people.
Ingredients
specially processed juice and powder of Amla fruits (Emblica officinalis).
Dosage
Take 1-2 capsules 2 times per day after meal, preferably with a glass of warm water.
Indications
Anemia, fatigue, breakdown, tissue insufficiency, diabetes, gout, osteoporosis, hepatitis, colitis, hemorrhoids, chronic bronchitis, pneumonia, laryngitis, pharyngitis, angina, hypotension, climacteric period, oncological diseases.
Contradiction
individual intolerance to one or more ingredients of the formula.
Packing
60 vegetarian capsules weighing 600 mg ± 10% each in food grade plastic bottle.
Storage
Store in cool dry place, protected from moisture and light.Store at 15-30° C.