AYURVEDIC TONIC FOR CARDIO-VASCULAR SYSTEM
Arjuna Capsules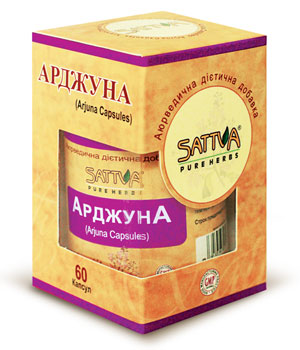 60 Vegetarian Capsules
In today's world, cardiovascular diseases are the most common causes of sudden death. For centuries traditional Ayurvedic medicine uses effectively herbal preparations to normalize the cardiovascular system activity. Terminalia Arjuna (Terminalia arjuna), commonly known as Arjuna, is one of the most powerful heart tonics recommended by Ayurveda. It is used to treat various cardiac disorders.

Nowadays scientific research has proven that Arjuna has anti-ischemic and cardio-protective effects, and may also be used successfully to treat hypertension.

Arjuna strengthens the cardiac muscle and may be taken daily to promote the perfect functioning of the cardiovascular system. Arjuna tree bark contains natural Coenzyme Q-10 with a property of preventing heart problems. The high content of Coenzyme Q-10 prevents heart attack. Coenzyme reduces the blood pressure and heart rate, regulates lipid metabolism as well as tones up the liver with cirrhosis.
Benefits
Strengthens the heart muscle and improves the pumping action of the heart.
Reduces the pain caused by ischemic heart disease.
Slows down the progression of atherosclerosis by reducing blood cholesterol and triglyceride levels.
Promotes the increment of the high-density lipoproteins.
Protects heart and heart coronary vessels of oxidative stress.
Helps to reduce the systolic blood pressure.
Strengthens the cardiac valves and stimulates blood circulation.

Arjuna tree (Terminalia arjuna) is native to the Indian subcontinent. It´s a deciduous tree that may grow up to 25 meters height. The extract of Arjuna tree bark is used in Ayurvedic medicine as a heart tonic due to its contain of flavonoids, tannins, gallic acid, oligomeric proanthocyanidins, triterpene saponins, phytosterols, magnesium, calcium, copper and zinc. Intake of Arjuna tree bark extract strengthens the cardiac muscle, that as a result, increases the pumping action of the heart. According to some scientific studies there is a suggestion that phytochemical glycosides known as saponins, help to improve cardiac muscle contraction. Oligomeric proanthocyanidins and flavonoids increase the natural antioxidant protection system of the heart and strengthen the cardiovascular system.

The effect of Sattva Arjuna capsules may be compared to a tuning fork. It tunes up the heart center and heart meridian. Helps to stop bleeding, and when the body functions normally, prevents increased thrombosis. It is useful for anemia, hemorrhages, and blood diseases. It is helpful for the first degree cardiac insufficiency treatment. Strengthens the cell membranes of the heart and prevents arrhythmias. Stimulates cardiomyocytes recovery. Eliminates pre- and post- myocardial load, preventing the stenocardia symptoms and myocardial inflammation. Effectively treats hypertension, insomnia, headaches, as well as inability to concentrate.

Sattva Arjuna Capsules used for:

Stenocardia (Angina pectoris) is a severe pain or sensation of pressure in the chest. It caused by coronary disease and happens when the heart muscle does not receive a sufficient amount of oxygen enriched blood. Heart failure occurs when the heart doesn't pump enough blood to meet the normal needs of the body. The therapy including Sattva Arjuna Capsules may improve the cardiac muscle function. Sattva Arjuna Capsules, when taken in conjunction with vasodilators and diuretics, improve heart failure condition and the cardiovascular system in general.

Atherosclerosis – elevated low density lipoprotein and triglycerides often lead to severe heart pathologies. The lipids accumulate on the inside walls of the coronary vessels, that causes narrowing of the vessels, thereby reducing blood flow to the heart. Atherosclerosis is a major cause of heart attacks that take away large number of human lives. Sattva Arjuna Capsules helps to prevent the progressing of atherosclerosis by reducing the level of harmful blood lipids.

Hypertension - Sattva Arjuna Capsules may protect heart from the harmful effects of high blood pressure by reducing the systolic blood pressure and maintaining it at the proper level. It enhances cardiovascular endurance.
Ingredients
Extract from Arjuna tree bark (Terminalia arjuna).
Dosage
Take 1-2 capsules 2 times per day after meal, preferably with a glass of warm water.
Indications
Cardiac insufficiency, heart ischemic disease, stenocardia, hypertension, post myocardial infarction rehabilitation, nervousness, fatigue, cardiac arrhythmia, lung disorders.
Contradiction
Individual intolerance to one or more ingredients of the formula.
Packing
60 vegetarian capsules weighing 600 mg ± 10% each in food grade plastic bottle.
Storage
Store in cool dry place, protected from moisture and light. Store at 15-30° C.