CLASSICAL AYURVEDIC FORMULA TO IMPROVE DIGESTIVE SYSTEM
Chitrakadi Vati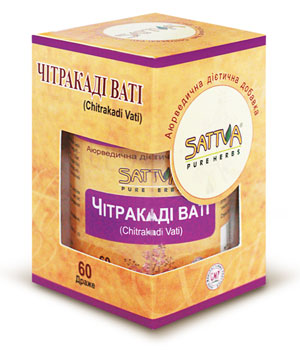 60 Vatis
Chitrakadi vati is one of the best classical Ayurvedic remedies which helps to improve digestion, relieve dysentery, abdominal gases, etc.

Chitrakadi means digestive fire in Sanskrit. Chitrakadi vati is recommended to treat moderate conditions of lack of "digestive fire". Chitrakadi vati increases the digestive fire and improves the appetite, helping liver's better functioning.

According to Ayurvedic texts Chitrakadi is known as digestive fire. Therefore, this formula is considered the best treatment to relieve digestion problems or to increase the digestive fire. It is used to treat indigestion, absence of appetite, abdominal gases and eliminate Ama (toxic mucus) from the stomach and intestines. This supplement increases the appetite as well as improving the digestion process. Chitrakadi's unique combination acts as an appetizer if taken before a meal, and as a digestive formula, when consumed after meals. It stimulates fat burning and helps to reduce fat deposits in the tissues.
Benefits
Eliminates toxins.
Stimulates appetite, increasing digestive fire.
Effective remedy for diarrhea.
Improves the secretion of digestive enzymes.
Increases the digestive power of the body.
Helps to treat constipation and indigestion.
Helps to normalize the digestive system.
Relieves painful urination.
Has antiseptic properties and used to treat various infectious diseases.
Reduces flatulence and prevents meteorism.
Enhances the immune system.

Main ingredients of Sattva Chitrakadi Vati:

Chitraka - Leadwort (Plumbago zeylanica) - has anti-inflammatory and analgesic effect. Reduces the blood lipids and lipid deposits in the liver, helps to reduce blood cholesterol.

Trikatu - contains equal proportions of three spices with pungent taste – Black pepper (Piper nigrum), Pippali (Piper longum) and Ginger (Zingiber officinale) – Eliminates toxins, improves the appetite, increases the digestion, has carminative and expectorant effects.

Black pepper reduces cholesterol and increases the metabolism. Effectively removes toxins from the body.

Pippali has strong antiseptic effect. Stimulates the functioning of gastrointestinal tract, increases the appetite, as well as gastric and pancreatic secretions. Thanks to such alkaloids as silvatine, sitosterols and methyl piperine it may help to eliminate bile stasis and relieve nausea.

Ginger stimulates digestion by helping the body to remove toxins from the intestine and split the fats.

Ajowan - (Trachyspermum ammi) – is a powerful tonic for the digestive, respiratory and nervous systems. Improves metabolic processes affected by stagnation.

Ayurveda describes Chitrakadi as fire, and Sattva Chitrakadi Vati is a remedy used to increase the digestive fire in the human body. The supplement helps to improve digestion, increase the appetite, and eliminate the flatulence. It is used to improve the liver functioning and to reduce tissues lipids. Chitrakadi acts as a digestive remedy.

Sattva Chitrakadi Vati removes "Ama" (toxic mucus), which is a result of lack of the "digestive fire". Ama is a perfect environment to bacterial growth. Endotoxins, which are present in gram-negative bacteria, may cause a large variety of autoimmune diseases such as rheumatoid arthritis, scleroderma, nephrotic syndrome, anchylosing spondylitis, etc.

Sattva Chitrakadi Vati is useful to relieve the irritable bowel syndrome, anorexia, diarrhea, abdominal pain, and flatulence.

Promotes intestinal peristalsis and stops the flow of undigested food along with loose stool.

Sattva Chitrakadi Vati is mainly used to treat gastric disorders, as well as to purify the digestive system in general. All this brings overall health improvement. It is very useful in the treatment of various types of digestive disorders and is the best remedy for all kinds of digestive system diseases. It improves digestion, increases appetite, and promotes correct functioning of the liver.
Ingredients
Chitraka (Plumbago Zeylanica), Black pepper (Pipper nigrum) Pippali (Piper longum), Ginger (Zingiber officinale), Ajowan (Trachyspermum ammi), Sea salt, Black salt, Rock salt, Asafoetida (Ferula asafoetida), Barley (Hordeum Vulgare), Specially prepared Granade Juice (Punica granatam).
Dosage
Take 1-2 vati 2 times per day after meals with luke warm water.
Indications
Intestinal upset, lack of appetite, meteorism, bulimia, irritable bowel syndrome, and prevention of some autoimmune diseases.
Contradiction
Individual intolerance to one or more ingredients of the formula, pregnancy and breastfeeding, gastritis, gastric ulce.
Packing
60 vatis weighting 400 mg ± 5% each in food grade plastic bottle.
Storage
Store in cool dry place, protected from moisture and light. Store at 15-30° C.