USED FOR TREATMENT OF SEXUALLY TRANSMITTED DISEASES
Chopchinyadi Churna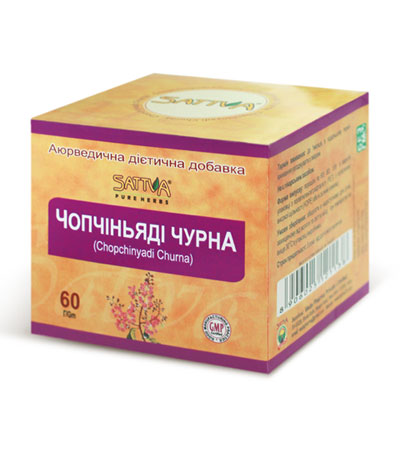 60 Gm
Sex plays an important role in human life, but as well as pleasure it also may cause an unpleasant and dangerous infection known as sexually transmitted disease (STD).

Sexually transmitted diseases are caused by pathogens: viruses, bacteria, protozoa and other microcosms. In the multifaceted world of microorganisms there are species that find their habitat in the genitals and are spread by transmitting sexually from an infected person to a healthy one.

Diseases caused by these microorganisms are also known as venereal diseases – after the Roman goddess of love, Venus.

From the beginning of humanity the sexually transmitted diseases have presented a danger to a human health. Centuries of experience has proved that such social factors as: war, poverty, lack of education, abuse of substances such as alcohol and drugs, and deficiency of moral education contribute to its spread. The humanity has not been able to overcome these problems, thus there was impossible to eradicate sexually transmitted diseases so far.

Despite significant advances of venereology and ongoing worldwide campains against spread of sexually transmitted diseases, it is still pervasive and continues to be a serious social and moral problem. Social significance of sexually transmitted diseases is determined by its prevalence, risk to health, severity of the effects, and the impact over the ability to procreate healthy children.

Many gynecological diseases, male and female infertility are often the result of sexually transmitted diseases and its complications.
Sexually transmitted infections have some symptoms in common, such as genital ulcers and globules (oral or rectal area might be affected too), pathological discharge form genitals (penis or vagina), painful urination, pain, and swelling of inguinal lymph nodes. These symptoms may occur depending on the condition of immune system of each individual.

Ayurveda aims to improve the immunity, and therefore to prevent the diseases. There are many herbal and mineral preparations used for treatment of sexually transmitted infections. Chopchinyadi Churna is the most common remedy to treat these problems.

Sattva Chopchinyadi Churna is used to treat skin diseases, as well as sexually transmitted diseases such as syphilis and gonorrhea.

Sattva Chopchinyadi Churna has anti-inflammatory action. Its herbal ingredients help to relieve joint pain and stiffnes. This remedy is also used to treat arthritis and gout. Sattva Chopchinyadi Churna is very effective in prevention the impotence caused by sexually transmitted diseases.
Benefits
Purifies the blood removing toxins.
Effective treatment for HPV (Human Papillomavirus) and chlamydia.
Helps to treat syphilis and syphilitic ulcers.
It is an effective remedy to heal wounds, boils and pimples, skin rashes, blood diseases, itching, and scabies.
Strengthens the immune system.

Main ingredients of Sattva Chopchinyadi Churna:

Chopchin – China Root (Smilax china) - a plant of the lily family. The rhizomes have medicinal properties. China Root rhizomes contain steroid saponins, characteristic glycosides, calcium, potassium and magnesium. It has rich content of amino acids. It is known for its anti-inflammatory and blood-purifying actions. Improves skin regeneration and used to treat skin diseases. It has diuretic and diaphoretic effects. Helps to mitigate depression. Regulates sexual activity, has a regenerating effect over the genitals, stimulates the production of sex hormones.

Pippali - Long pepper (Piper longum) – has strong antiseptic effect. Stimulates the functioning of gastrointestinal tract, increases the appetite, as well as gastric and pancreatic secretions. Thanks to such alkaloids as silvatine, sitosterols and methyl piperine it may help to eliminate bile stasis and relieve nausea.

Black pepper (Piper nigrum) – reduces cholesterol and increases the metabolism. Effectively removes toxins from the body.

Ginger (Zingiber officinalis) – stimulates digestion by helping the body to remove toxins from the intestine and split the fats.

Clove (Syzygium aromaticum) - natural analgesic. Has antibacterial, anti-emetic, and anti-inflammatory effects, as well as antioxidant, antiseptic, antispasmodic, antiviral, carminative, diaphoretic, tonic action. Stimulates the mucous membranes.

The herbs, which are used to manufacture Sattva Chopchinyadi Churna are the premium quality. All the ingredients are sorted and cleaned (foreign substances are removed manually). Prepared raw material is thoroughly rinsed with filtered (including RO - reverse osmosis) water, and repeatedly rinsed with DM (demineralized) water. Then it is dried in the shade in optimal conditions. And after that it is ground in a certain way to preserve the active properties of herbs.
Ingredients
China Root (Slimax china), Pippali (Piper longum), Black pepper (Piper nigrum), Ginger (Zingiber officinalis), False black pepper (Embelia ribes), Cinnamon (Cinnamomum zeylanicum), Pippali root (Piper longum root), Bishop's weed (Carum copticum), Pellitory (Anacyclus pyrethrum), Clove (Syzygium aromaticum), Sugar (Sugar).
Dosage
Take 1 tea spoon 1-2 times per day with a glass of warm water 30-40 min before meals with warm water.
Indications
Sexually trasmitted diseases, impotence, gout, rheumatism, arthritis, herpes, skin diseases, bloating, and cloudy urine.
Contradiction
Individual intolerance to one or more ingredients of the formula.
Packing
60 grams ± 5% powder in food grade plastic bottle.
Storage
Store in cool dry place, protected from moisture and light. Store at 15-30° C.