NATURAL FEMALE TONIC
Femidin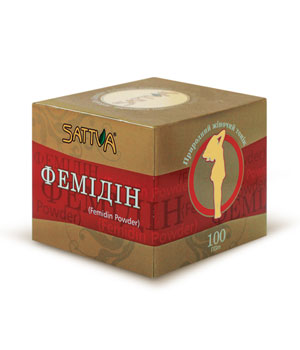 100 Gm
In our rapid age women are leading a very active lifestyle. They are building career and brightly manifesting themselves in social life, giving birth, raising children and taking care of their family. On their fragile shoulders lies are so many different problems and concerns.
But there are physiological phenomenon that can disturb a woman. Maybe she is suffering from premenstrual syndrome, pain, general weakness, menopausal syndrome, anemia or experiencing psychological changes at different stages of life.

Sattva Femidin - a natural plant complex, which gives vitality, energy and stamina to female body, it helps to revitalize a woman's body.

Sattva Femidin - a unique natural product for support, supply and replenishment of the female body with vital energy and protection.

Femidin helps to change the state of the body and provides a slim female body. It also rejuvenates the female genital organs after childbirth. In the period of lactation it helps to improve milk production in nursing mothers.

Sattva Femidin gently supports a healthy natural production of female hormones; it helps to maintain a healthy menstrual cycle.

Sattva Femidin reduces congestion, calms the nerves and tissues, mental disturbances and muscle cramps before and during menstruation.

Sattva Femidin helps in restoring the vagina and helps to overcome the weakness and looseness of the muscles after childbirth. It fulfills iron and calcium deficiency, increases sexual vitality, provide energy and stamina.
Benefits
It is a natural source of calcium and iron, provides general support for women's health and reproductive system.
Maintains elasticity of skin tissue.
Maintain normal menstrual cycle.
Gives energy, stamina and vitality.
Helps to change and heal the body.

Main ingredients of Sattva Femidin:

Shatavari (Asparagus racemosus) This is the best female tonic in Ayurvedic medicine. It normalizes the hormonal system. It cures the reproductive system and reproductive organs of women. It enhances the lactation in feeding mothers. It helps to restore a woman's body
after childbirth. It reduces the pathological manifestations of menopause.

Chandan (Santalum album) - is a good antiseptic and astringent. It is an effective agent for protecting the body from the harmful effects of radioactive and chemical factors. It tones and reduces inflammation. Well suited for the treatment of purulent infections, ulcers and abscesses. Its flavor has beneficial effects on the nervous system, improves mood, brings peace, and relieves tension and fear.

Nagarmota (Cyperus rotundus) - is one of the most important plants for the treatment of diseases affecting women, as it helps in menstrual cramps, eliminates premenstrual congestion and fluid accumulation. It is one of the most powerful tools to regulate menstruation and to reduce premenstrual syndrome. It reduces the contractions of the uterus, stimulates sexual activity, increases the excretion of urine and also has worming action.

Saffron (Crocus sativus) - contains flavonoids, vitamins B1 and B2, nitrogenous substances, potassium and calcium. Has a diuretic, antiseptic and antispasmodic action. It is a good diuretic and anti-inflammatory agent. It is indispensable in inflammation of the bladder and urinary tract, in menstrual disorders (amenorrhea, dysmenorrhea), and as a sedative in nervous hysteria with seizures.

Sattva Femidin - is an immunomodulator and rejuvenating tonic for women. It supports functional and balanced state of the female body.

Sattva Femidin is effective in dysmenorrhea, pain, irregular and scanty menstruation, general weakness. It calms the nerves. It orders the physiological and psychological effects in the female body. It makes a woman body healthy by balancing the natural production of female hormones.

Sattva Femidin is useful in premenopausal and is restorative drugs after menopause. Helps restore iron deficiency and calcium.

Strengthens muscles, tightens the skin, making it supple and radiant. It increases sexual desire in women.
Ingredients
Supari (Areca catechu), Nagarmotha (Cuperus rotundus), Pippli (Piper longum), Ela (Eletaria cardamomum), Vanchlochan (Bambusa arundinacia), Jaiphal (Muristica fragrans), Shatavari (Asparagus rasemosus), Saffron (Crocus sativus), Pista (Pistasia integerrima), Draksha (Vitis vinifera), Chandan (Santalum album), Loh Bhasma (Ash of Iron), Ghee, Sugar.
Dosage
Take 1 tea spoon 1-2 times per day with a glass of warm water or milk.
Indications
Premenstrual syndrome, irregular periods, abnormal vaginal discharge (non-specific leucorrhoea), general weakness, low sexual desire.
Contradiction
Individual intolerance to one or more ingredients of the formula.
Packing
Powder 100 gm ± 5% in food grade plastic bottle.
Storage
Store in cool dry place, protected from moisture and light. Store at 15-30° C.