NATURAL BLOOD PURIFIER
Suraktam Syrup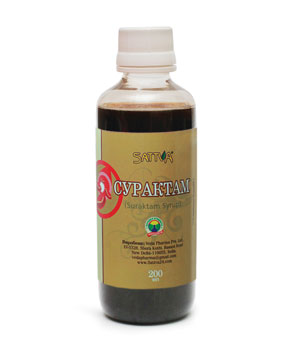 200 Ml
Many scholars argue that the skin is a mirror which reflects the internal state of the body.

Skin - the largest in area and mass of human body. The area of the skin of an adult is 1.7 sq.m.

The skin plays an important role in the living organism and performs a complex set of physiological functions.

Skin continually responding to many stimuli coming from the environment and from internal organs and from the central nervous system.

Skin can imagine the screen that projected changes in the activity of various organs and systems of the human body.

Liver, gallbladder, kidneys and lungs are involved in the elimination of toxins from the organs through the blood and lymph.

Large intestine plays an important role in the elimination of waste from the body. If defecation function is disturbed then a large amount of toxins enters the blood and lymphatic. Some Part of the toxins are accumulate in the lymph nodes, and some is derived from the blood through the skin.

Toxins in the blood are the cause of acne and other skin problems.

The outer layer of skin has many pores and hairs, through which the waste products and toxins are exposed and from there infection comes into the body from outside.It can be trapped in the epidermis or to penetrate deep into the skin, where they are transmitted into the main stream of blood to infecting other parts of the body. As a result of contamination of the blood by toxins, develop into various types of skin diseases like itching, eczema, acne, allergic skin diseases.

Ayurvedic medicine Sattva Suraktam syrup is a combination of plants that contributes in effective cleaning of blood, helps in various skin diseases, normalizes the gastrointestinal tract, lowers blood cholesterol levels and promotes weight loss.
Benefits
Cleans the blood.
Eliminates toxins.
Helps in the treatment of skin problems.
Effective for eczema.
Eliminates acne.
Tones the liver.
Eliminates constipation.
Improves blood circulation.

Sattva Suraktam syrup is a best blood purifier due to its cooling properties of herbal ingredients. This Ayurvedic syrup has no side-effects and it helps to maintain consistent blood circulation. It strengthens the veins and capillaries. Sattva Suraktam syrup normalizes body functions, helps to remove toxins from the blood. Sattva Suraktam syrup is effective for all types of skin diseases such as eczema, acne, itching and other skin allergies. Take 1 to 2 teaspoons of this syrup, twice a day and get amazing results.

Main ingredients of Sattva Suraktam syrup

Senna (Cassia angustifolia) – is a shrub up to 2 m, belongs to the legume family. It grows in India and Africa. The leaves and fruits contain organic acids, alkaloids, glycosides. Leaves have a laxative effect, increase colonic motility. Increases appetite and improves digestion. Reduces swelling, it is recommended for certain skin diseases and conjunctivitis.

Revanchini (Rheum emodi) –a perennial plant with a powerful two headed dark brown rhizome. The roots and rhizomes of rhubarb contain Tanno glycosides
and Anthro glycosides. In small doses it has got astringent action, protecting the receptors of the intestinal mucosa and enhances bile but In high doses, it acts as a laxative.

Kanchnar (Bauhinia variegate) - contains flavonoids, steroid compounds and amino acids. It is used to treat diarrhea, skin diseases and leprosy.

Neem (Azadirachta indica) - due to its bitter taste and the activity against microorganisms it is used to clean the blood and skin problems.

Murati (Glycyrrhiza glabra) - For the preparation of medicines its roots and rhizomes are used. They contain coumarins, polysaccharides saponozidy, flavonoids, glycyrrhizin, and essential oil. Have anti-inflammatory and emollient properties. Active ingredients help to reduce cholesterol levels in the blood, normalization of metabolic processes of the body.

Haritaki (Terminalia Chebula) has adaptogenic, nootropic and sedative effect. In the fruits of Haritaki most powerful antioxidants are found , which suspend artery endothelial injury, inhibition of cellular immunity, including antitumor, and colloidal equilibrium disorders of bile and urine. Fruits of Haritaki stimulates the antitoxic function of the liver, provides blood-stopping and vessels strengthening effect.

Kamala (Nelumbium speciosum) - has a very broad spectrum of activity and is a part of modern cardiology, vasodilators, hemostatic and antipyretics. Helps with fever, diarrhea, dysentery and hemorrhoids. Recent studies have demonstrated the ability of chemical components found in lotus to dissolve tumors, which makes possible of its use in the treatment of cancer.

Tulsi (Ocimum sanctum) – is considered one of the medicinal plants, that reduces stress and prolongs life. It is used to treat colds, headaches, stomach diseases, inflammation, various types of poisoning and malaria. Tulsi is useful for treating diabetes, since it has the ability to lower blood glucose.

Diet and lifestyle:
Avoid taking excessively hot, greasy, spicy, sour and salty foods. Increase fluid intake as water and juices. Increase your intake of anti-inflammatory herbs and spices such as cardamom, green coriander, licorice root, and others.

Avoid working in direct sunlight or in a hot atmosphere, for example, near stoves and boilers.
Ingredients
Senna (Cassia angustifolia), Revanchini (Rheum emodi), Kanchnar (Bauhinia variegate), Neem (Azadirachta indica), Murathi (Glycyrrhiza glabra), Haritaki (Terminalia chebula), Bari kasondi (Cassia occidentalis), Pit papra (Fumaria indica), Anantmool (Hemidesmus indicus), Guduchi (Tinsopora cardifolia), Vijayasar (Pterocarpus marsupium), Trivrit (Operculina turpethum), Atis (Aconitum heterophyllum), Gulab (Rosa centifolia), Shisham (Dalbergia sissoo), Haldi (Curcuma longa), Amaltas (Cassia fistula), Daruharidra (Berberis aristata), Amla (Emblica officinalis), Nirgundi (Vitex negundo), Patol patra (Trichosanthes dioica), Pippli (Piper longum) , Indrajao (Holarrhena antidysenterica), Chirata (Swertia chirata), Kamala (Nelumbium speciosum), Kutki (Picrorrhiza kurroa), Tulsi (Ocimum sanctum), Sugar.
Dosage
Adults 1 teaspoon twice a day, children - ½ teaspoon once or twice a day depending on age. Shake before use!
Indications
Helps with skin rashes, acne, boils, skin allergies, dermatitis, neurodermatitis, eczema, obesity.
Contradiction
Hypersensitivity of the components of the drug, pregnancy and lactation.
Packing
Syrup 200 ml± 5% each in food grade PET bottle.
Storage
Store in cool dry place, protected from moisture and light. Store at 15-30° C.